The URCA team will engage with residents of Eleuthera on electricity and telecommunications services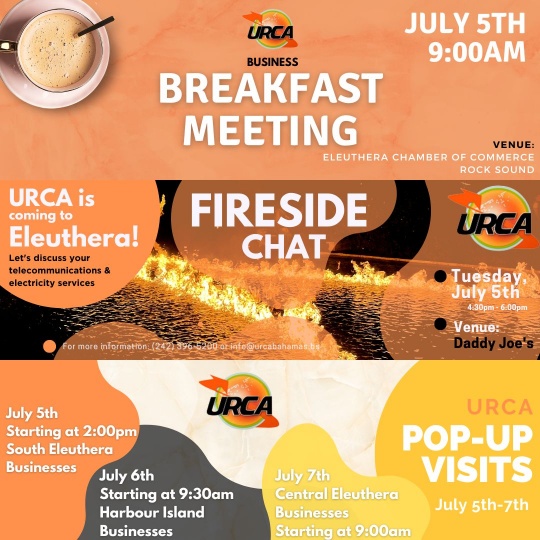 The Utilities Regulatory and Competition Authority (URCA) invites residents of Eleuthera to engage with their team to discuss telecommunications and electricity services on the island.
The URCA team will be in Eleuthera for three days, from Tuesday July 5 to Thursday July 7, 2022, with the intention of holding various meetings at locations in North, Central and South Eleuthera.
Events begin with a Meeting breakfast July 5 at 9 a.m. at the Eleuthera Chamber of Commerce I-Hub in Rock Sound. Focus group sessions at the same location in Rock Sound will also take place from 12:30 p.m. to 1 p.m. and 4:30 p.m. to 5:30 p.m. on July 5.
Also scheduled for Tuesday evening July 5 is a Cat by the fire will be held at Daddy Joe's Restaurant, just north of Gregory Town, from 4:30-6:00 p.m.
The URCA team also has business Ephemeral visits scheduled for each day on the island, which is scheduled to begin with businesses in South Eleuthera on July 5 at 2 p.m., then on July 6 in Harbor Island from 9:30 a.m., and on July 7 the team will visit businesses in Central Eleuthera from 9am. Companies wishing to be visited can send an e-mail to [email protected]
The third Focus group session takes place in Harbor Island on Wednesday, July 6 from 12:00 p.m. to 1:00 p.m. at the Cocoa Coffee House. The final Focus group session takes place at Governor's Harbor in the Leon Levy Native Plant Preserve on Thursday, July 7 from 11 a.m. to 12:30 p.m.
See the posters below for more details: