KACST, stc develop telecommunications services, satellite products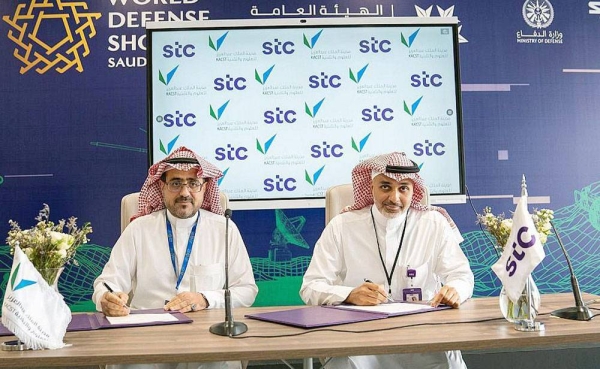 Riyadh — King Abdulaziz City for Science and Technology (KACST) and Saudi Telecom Company (stc) on Monday signed a memorandum of cooperation in the field of development of telecommunications services and satellite imagery.
The signing ceremony took place on the sidelines of the World Defense Show (WDS) organized in Riyadh in the presence of the commercial director of stc Eng. Riyad Saeed Muawad and the Director General of International Cooperation and Partnerships of KACST, Dr. Hassan Alayied.
The cooperation agreement aims to develop satellite products, such as remote sensing projects, Earth observation, space science and its applications.
It also includes the development of an interactive portal to facilitate the processing of customer requests for spatial imagery products resulting from this partnership.
Both parties, through this cooperation, seek to benefit from the stc networks and its infrastructure, as well as KACST services to explore the options available for the satellite imagery products provided by KACST.
They aim to target the institutional and consumer sector so as to contribute to increasing and expanding opportunities in the various market sectors and customer sectors in the field of image services, with the aim of meeting national needs.
The two parties will cooperate to invest joint capabilities and expertise in research and technological cooperation, in addition to engaging their young specialized human resources in the development of services and products provided by KACST.
This is in addition to increasing market share on each side through joint work and adding new subscribers, as well as developing KACST services by using and exploring stc's cloud networks and by benefiting from the MPLS network of the stc group to offer the IPVPN service.
KACST, as the "national laboratory" in Saudi Arabia and what it has of scientific expertise and infrastructure, is qualified to be one of the best research and scientific institutions through partnerships with institutions local and global to locate and transfer vital technologies to Saudi Arabia. — SPA